Does it Hurt to Have Varicose Veins Treated?
Many people avoid having varicose veins treated as they believe the procedure can be invasive and painful. This is a myth. Technology has improved dramatically over the years providing patients with a variety of treatment options that are considered to be practically painless. We discuss these treatment options and the pain associated with them further in this blog.
So, does it hurt to have varicose veins treated?
For the vast majority of patients, no. The procedures are considered to be minimally invasive with most patients only experiencing mild discomfort. This mild discomfort can come from the initial sting from the local anaesthetic. This usually lasts around 20-30 seconds. The doctors work closely with patients to minimise pain and discomfort by arranging medications or supplements to be taken prior to the procedure. This helps to reduce anxiety and produce a calming effect. For patients taking these medications or supplements, a carer or relative is required to transport you home.

What are the types of non-invasive treatments we offer at The Vein Institute?

Ultrasound Guided Sclerotherapy– This treatment is non-surgical, no scarring and virtually no downtime. A specialised medication is injected into the diseased veins to collapse the vein and allow the body to absorb the sealed vein. The appearance usually improves over a few weeks and continues to improve for about three months.
Endovenous Therapy – Also known as endovenous laser ablation or radiofrequency ablation, these treatments are performed comfortably in our clinic with local anaesthetic. The treatment is a minimally invasive method of treatment for larger varicose veins and is considered the gold standard treatment requiring no hospitalisation or general anaesthetic.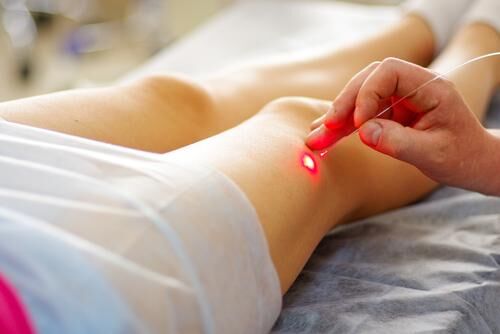 Venaseal "Medical Super Glue"-Venaseal is a modern, non-surgical treatment that uses a medical adhesive to treat varicose veins. As the medical superglue sets within minutes, there is a faster healing process than is sometimes associated with other treatments.
Compression Therapy – Patients who have small varicose veins may relief from their symptoms by wearing compression stockings.
With advancements in technology, treatments are now practically painless. If you have been putting off varicose vein treatment it may put your mind to ease that our "gold standard" treatments are all walk-in, walk-out, require minimal downtime, no hospital stay, or general anaesthetic. To talk to one of our Patient Liaison Managers or Doctors, call us on 1300 535 017.