Whether it's a visit to the dentist, a check-up with the GP or seeing a specialist for a consultation, it's not at all unusual to feel apprehensive. In fact, it's fairly common. While there is sometimes the fear of pain, which in the majority of cases is very mild or non-existent, the simple atmosphere and experience of a medical procedure can be enough to have us dreading the appointment as it comes up in the calendar.
Vein treatment falls into this category, while the procedure itself is relatively pain-free, it can be daunting and at times uncomfortable to think about. If you're wondering is varicose vein treatment painful, I have recently spent some time observing the procedure alongside doctors and nurses, spoken to the patients about their experiences, and consulted one of Australia's leading vein doctors to get the best insight into the procedure and help provide some peace of mind.
What is actually happening during vein treatment?
While there are several different types of vein treatments, they mostly involve the same process. While the patient is laying on the bed, the doctor will start with a small local anaesthetic to insert the fibre into the affected vein. Rather than numb the whole leg, the doctor performs something known as tumescent anaesthesia. This involves small doses of a special anaesthetic to surround the vein, ensuring that the procedure is as pain-free and comfortable as possible and that the recovery in the following days is minimal.
The rest of the procedure is relatively simple and quick, and normally complete within 20-30 minutes.
The patient is awake and talking to the doctor during treatment and can watch the ultrasound if they're interested. If not, there are options to play music, read or even use your phone to distract yourself.
Learn more: Varicose vein treatment: what to expect.
Is varicose vein treatment painful?
Pain is one of the most relative experiences we can have. What feels like a pinprick to one person could be a sharp heavy pain to another. While it's hard to say exactly how it will feel for you, most patients describe it as between 0 to 3 out of 10, with some people not finding it painful but rather slightly uncomfortable. Some people may find it more painful, but the sensation itself passes very quickly, meaning there's very little chance of pain lasting more than a few seconds.
There is the initial injection and a couple of tiny incisions, all which often have the feeling of a needle or flu shot. While this in itself is not painful, some people can find the experience in a clinic unnerving. If you're feeling worried or nervous just let the staff know, as they're happy to help out and make it as comfortable as possible.
Read more: Three signs it's time to get your varicose veins treated.
Is the treatment scary?
While the thought of needles and laser fibres might sound a bit worrisome, treatment is quite simple once it begins. With some lovely Bach playing on the speakers, doctors and nurses who talk you through the procedure, it's quite a comforting environment. Even when there are small amounts of pain, they pass quickly. There is also a detailed aftercare pack including complimentary compression stockings.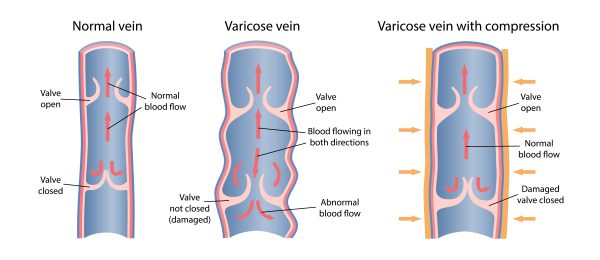 After the procedure, patients are able to go back to work or complete normal activities. The compression stockings are worn for five days post-procedure and patients are required to do light exercise for a minimum of 30 mins per day. As a part of your treatment plan, you will also have access to your doctor for any follow-up questions.
Learn more: Varicose vein treatments
The personal touch
Vein stripping or vein surgery at a hospital, or in a large centre, can be a bit more of an ordeal as there are waiting times, overnight stays, as well as a longer and more painful recovery. While some people do require the hospital setting for the very serious veins, the quality of care and comfort that comes with a smaller and more specialised clinic like The Vein Institute makes a huge difference to your comfort and general experience.
Seek expert advice
The doctors at The Vein Institute specialise in varicose vein treatment. We offer patients a comprehensive treatment program to treat varicose veins, with non-surgical laser treatment techniques. The benefits of laser treatment to patients are;
Walk-in walk-out treatment
98% success rate
Extremely effective
Can be performed at a clinic (no hospitalisation)
No general anaesthetic
Medicare rebates apply
No downtime or time away from work
To book a consultation and discuss our treatment program, call  1300 535 017. Or, make an enquiry via the Contact Us page.