Chronic Venous Insufficiency is a condition that occurs when the vein valves are not working properly. It can cause swelling, pigmentation changes and can sometimes lead to Lymphedema. So, if you are currently suffering, here is everything you need to know about Lymphedema and Chronic Venous Insufficiency (CVI).
How is Lymphedema and Chronic Venous Insufficiency Connected?
When the vein valves are not working properly, it makes it difficult for the blood to return to the heart, therefore the blood pools in the veins. It is essential you catch CVI in its early stages before you start seeing tissue changes. These tissue changes leave you susceptible to wounds that are difficult to heal. Recent research shows that swelling of the legs in association with varicose veins is usually the result of lymphoedema.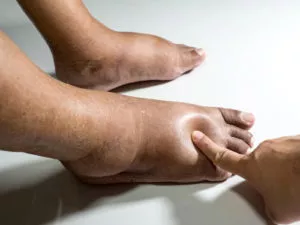 Lymphoedema, or poor fluid drainage from the lymphatic systems, is swelling that is caused by a collection of too much lymph fluid. It usually happens in your arms and legs, but is not uncommon to occur in other places of the body. This swelling may cause pain and limit how well the affected area moves. Lymphedema can be a result of damaged lymph nodes from cancer treatment and a result of infection, injury or trauma of areas of the body.
Patients with CVI experience changes in their lymphatic system. This chart by Tactile Medical (Eva M. Sevick-Muraca, PhD), shows how lymphatics can be impacted at each stage of Chronic Venous Disorders. The worse the leg disease, the more likely there is to be swelling.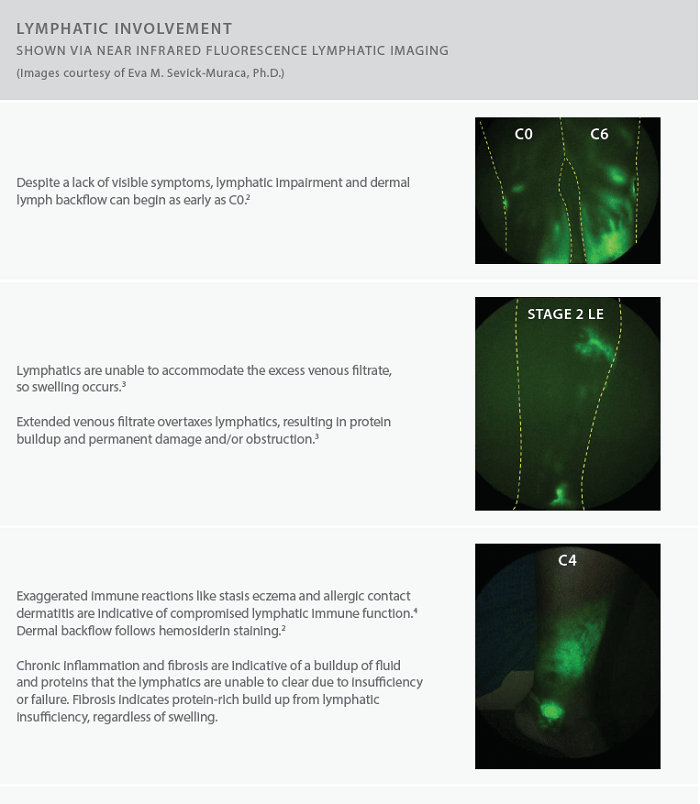 Lymphedema Treatment
We offer specialised compression therapy to patients with Lymphoedema. Partnered with Bauerfeind Australia, The Vein Institute supplies patients with medical-grade compression stockings as part of their vein treatment. By using 3d measurement, fitted stockings are provided to patients in order to reduce swelling and improve circulation. Compression stockings can be above the knee or below the knee, depending on treatment needs. When treating CVI, patients usually see a dramatic improvement of lymphedema, with many patients feeling their legs lighter with less swelling.
Varicose Vein Treatment
We offer a range of non-surgical treatment options such as Ultrasound Guided Sclerotherapy, Endovenous Therapy, Venaseal "Medical Super Glue". Speak to one of our experts at The Vein Institute today to discuss your options.
Seek expert advice
The doctors at The Vein Institute specialise in varicose vein treatment. We offer patients a comprehensive treatment program to treat varicose veins, with non-surgical laser treatment techniques. The benefits of laser treatment to patients are;
Walk-in walk-out treatment
98% success rate
Extremely effective
Can be performed at a clinic (no hospitalisation)
No general anaesthetic
Medicare rebates apply
No downtime or time away from work
To book a consultation and discuss our treatment program, call  1300 535 017 or make an enquiry via the Contact Us page.
Reference: Sevick-Muraca, E. Retrieved from https://www.tactilemedical.com/wp-content/uploads/2017/02/500325-001-Vasc-Poster-022717.pdf